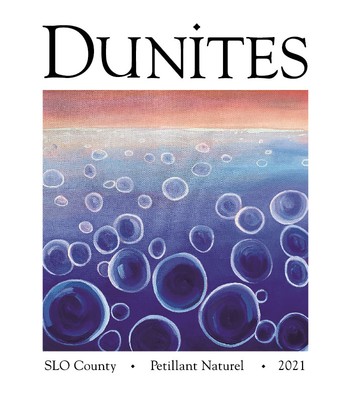 Petillant Naturel is a nod to the ancient method for creating a sparkling wine. Prior to the understanding and advancement of sparkling winemaking by champenoise monks in the late 17th century, the mechanics that lead to bubbles in wine were a mystery. But once armed with the knowledge of fermentation, the wines of Champagne quickly became the benchmark standard for sparkling wine. However, the Champagne style has always been a time consuming and expensive method to make wines. Enter the re-emergence of "pet nat", where the wine is bottled during its fermentation so that as the yeast finish converting all the sugar to alcohol, carbon dioxide is trapped in the bottle and dissolved into the wine.
Pinot Noir and chardonnay for this wine were hand harvested early in the morning before being brought to the winery where they were gently pressed to avoid extracting color or bitter phenolics from the grape skins. The juice was then transferred to tank where it underwent fermentation by native yeast for one month. Once the yeast had consumed most of the sugar, the wine was bottled, and the fermentation was completed in bottle. Following 4 months of ageing, the bottles were riddled, and the yeast deposit was disgorged, leaving behind a clear wine.
Blanc de noirs allows for a wide array of flavors and aromas to exist in the glass at one time. Red apple skin, tropical fruits, and yellow peach are all carried through the pale-straw colored wine by persistent bubbles. This is a fun and unpretentious style of wine made from fantastic vineyard sources, which lends a degree of nuance and seriousness. Made with minimal SO2, this wine will benefit from careful storage and is intended to be drunk within 1-2 years from its release.